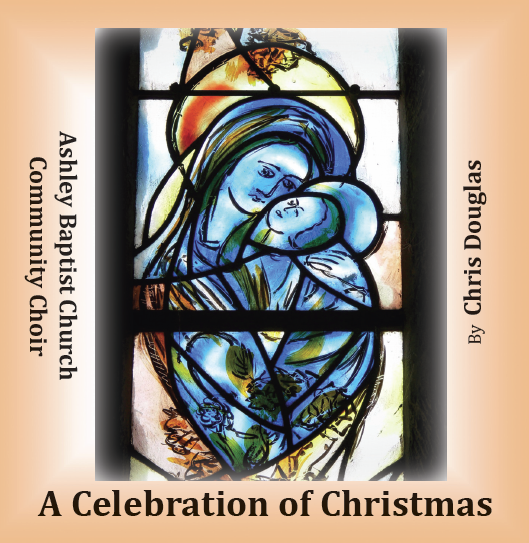 Chris Douglas, October 2014:

The seeds of this CD lie in the track "Spread the Word" which I wrote in January 2013 for a service sending a missionary family attached to our church back to Moldova to continue serving out there. The song was very well received and has been sung on several occasions since. I then has the idea of writing some Christmas music - perhaps retelling the Christmas story - but then linking this to the question "Why do we still celebrate Christmas 2000 years on and how is this festival still relevant to us in the 21st Century?"

While Touring through Italy on holiday in April and May 2013, the musical ideas began to flow and on my return I had the basis of a small musical. I tidied the ideas up during the summer, approached my home ministers at Ashley Baptist Church in New Milton in Hampshire and suggested that his might suit our church community choir which always prepared something for our Christmas services.

The piano/keyboard accompaniment is deliberately simple as an underpinning of the songs. The focus of this work is on the melodies and most essentially the words conveying the all-important message of the Christmas story and its relevance to us today.

We used a small backing group that consisted of keyboard, electric guitar, drums and flute to accompany the choir. Most of the songs are in unison; only 2 are written with 4 part harmony which - should it prove too ambitious for any group of singers - can be ignored as they will work with just the melody line.

The whole work lasts about 25 minutes and interspersed with the Christmas Bible readings provided the framework for one of our advent services.

I do hope you enjoy the CD which we have had enormous fun making. Printed scores are available for choirs should you want to sing the musical yourself or use any of the songs. All net proceeds from the sale of CDs and scores support 2 charities:

- Ashley Baptist Church sound and music
- The Kawama Project in Zambia run by the Silverwood Trust

Now it is just a question of "spreading the word"!! It would be great to see the musical used across the country and even abroad.