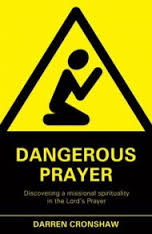 Dangerous Prayer offers a strategy for fostering prayer and spirituality in mission that focuses on neighbourhood transformation and global needs using the Lord's Prayer as a radical blueprint. Sustainability in mission is not possible without prayer; vibrancy in prayer is not possible without mission. Christians on mission need a vibrant life of prayer in order to be effective yet to have a vibrant prayer life they need an outlet in mission.
The Lord's Prayer offers a radical inspirational framework to help move Christians beyond praying just for themselves and to have their imaginations captured by the mission of God and concern for global needs. Jesus' words guide us to pray for God's Kingdom on earth, for restoration, for food for all who are hungry, for people to experience forgiveness and all that really is good news about Jesus. It is a dangerous prayer because of its counter-cultural and radical stance, and because it invites us to be, in part, the answer to our prayers.
This book offers inspiring and practical approaches for unleashing the whole people of God for missional prayer and prayerful mission.