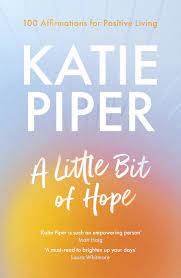 A Little Bit of Hope is the perfect 100 day injection of positivity to take with you wherever you go.

This short and sweet collection 100 bite-sized affirmations, abridged from Katie Piper's bestselling book A Little Bit of Faith, encourages us to see that heartbreak and hardship can become fuel for your fight. Whatever life has thrown at you lately, you can fall countless times and still get back up again – all you need is a little bit of hope.

Beautifully designed and wonderfully uplifting, this 100-day devotional is easy to dip in and out of and take on the go. It will help you find strength and confidence when you need it most, right where you are.