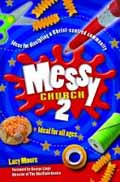 A follow-on from the hugely-successful
Messy Church.

Alongside the usual mix of creativity,
fun, Christian hospitality and
thanksgiving this second volume explores
the importance of discipleship, faith
development and training for leadership.

The book contains a further fifteen
units, again covering a year's worth of
material, but this time with a view to
enabling those taking part to go deeper
with God. Topics include: key events in
Jesus' life; Christian basics; biblical
stories of faith; baptism and Holy
Communion.