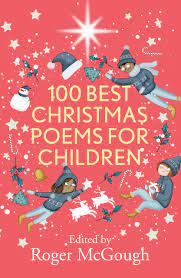 From traditional verses by Christina Rossetti and Henry Wadsworth Longfellow to modern classics by Carol Ann Duffy, Steve Turner and Benjamin Zephaniah, this dazzling anthology of Christmas poems will delight children and adults of all ages.

All the wonders of the season are captured in 100 Best Christmas Poems for Children. Perfect for reading aloud with all the family or for children aged 8-12 to read to themselves, there are verses that will encourage you to reflect on the Christmas themes of joy, hope and peace for all the world, while also savouring the festive fun of everything else that Christmas brings – from the opening of the first Advent window to the tidying away of all the decorations on Twelfth Night.

Edited and introduced by beloved poet Roger McGough, this enchanting children's poetry book make a wonderful gift and keepsake and will be cherished by all who read it. Children will gain an appreciation for language and storytelling as the magic of Christmas is brought to life by this anthology that they'll return to over and over again each year.