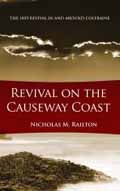 Set within a wider socio-political and religious context this book takes a close look at the impact of the 1859 revival on the town of Coleraine on the north coast of Ireland.
The salient features of the revival are outlined, the views of supporters as well as critics discussed and analysed.
This book is one of the first detailed accounts, based largely upon archival and other primary source material, of the impact of the 1859 revival on a local community in the north of Ireland.

This revival is described by Railton as the'most explosive repercussion of the American Revival'. In this area there was a real enthusiasm to expect great things from God with people committing themselves to daily prayer meetings.

Nick Railton tells the story of how simple people communicated a simple message in simple words which led to 100,000 men, women,and children being converted.