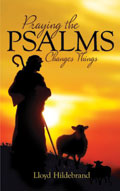 Praying the Psalms Changes Things is the fourth book in a very popular series by Lloyd Hildebrand that involves praying the Scriptures.

The Bible says, "And this is the confidence that we have in him, that, if we ask any thing according to his will, he heareth us. And if we know that he hear us, whatsoever we ask, we know that we have the petitions that we desired of him" (1 John 5:14-15).

This spiritual confidence comes from praying God's Word, and the Psalms are particularly powerful sources of prayer for every believer. The Book of Psalms is known as the Bible's prayer book, and so many of the Psalms are prayers that we can personalize for ourselves.