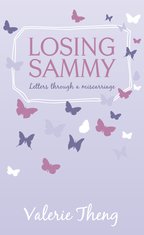 The heartbreak of miscarriage is experienced by women all across the world, and yet it remains an uncomfortable topic of conversation for many.
Losing Sammy is a collection of twelve letters written to an unnamed mother after she suffers the miscarriage of her child. The letters speak of loss and loneliness, strength and courage, hope and peace.
They seek to encourage, console, and to serve as a reminder that these women are not alone. Rather, there is One who is gracious and loving, who can bring us joy and comfort even amidst the deepest darkest pain.
"Written with searing honesty and deep empathy, Valerie's hearfelt letters will remind you of God's love and faithfulness, and help you see glimmers of hope and healing in the darkness. This book is valuable for those who have suffered a miscarriage personally as well as those who haven't."
- Kate Lewis, minister's wife, Leyland.
"The voices in the book are refreshingly raw and honest. This book helps us, and those we minister to, find shelter in the warm embrace of our heavenly Father."
- John Russell, Minister, Cornerstone Church, Nottingham.