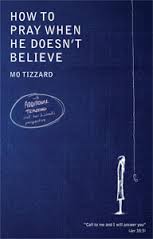 "I will come home if you don't talk about God anymore."

"I don't want you going to church or any more meetings."

"And I don't want you to have anything more to do with that woman who took you there."

These were just some of the demands Mo Tizzard's husband gave her when she became a Christian. Like countless other new believers, Mo was faced with the disturbing challenge of wanting to love and serve God—and also wanting to please her unbelieving husband. No matter how hard she tried, the conflicts persisted and nearly resulted in lost love. But Mo was faithful to persevere! How to Pray When He Doesn't Believe offers authentic encouragement to every woman who is married to an unbeliever and speaks to the real issues of unequal faith (submission, the cost of faith, and God's perfect timing) in practical ways as only someone who has "walked the walk" can do. If you are married to an unbeliever, allow Mo Tizzard to come alongside you and share how she learned to walk with God and her husband, and saw her home restored!