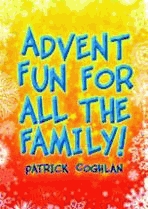 If you're looking for something to do as a family during Advent that has a little more meaning than opening yet another door on the Advent calendar to get at the chocolate behind it, then this is the book for you.

A family-focused Bible study for Advent, each session comprises a Bible study, discussion, prayer and creative activity. Featuring twelve of the key characters in the Nativity story, it explores the first coming of Jesus and how the characters were involved, leading through to the lessons we can learn from them as we look ahead to Jesus' return.

This fun, imaginative and thought-provoking book will enable the whole family to explore the true meaning of Christmas.